We are proud to announce that Steelcase companies took home four Best of NeoCon awards. Innovative and insight-led products Brody and Thread led the charge in lounge furniture and integrated technologies. Several products were also recognized by Interior Design's HiP recognition program.
Best of NeoCon – Gold Award
HiP Award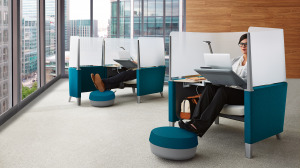 Brody WorkLounge
Designed to be good for your body and good for your brain.
Insights:
Typical lounge seating: typical lounge chairs are designed for waiting. Not working.
Comfort is compromised: while most lounge spaces look comfortable, they provide little ergonomic support.
Work + learning is compromised: people need more than chairs, alone, to get their work done. They need supportive surfaces for their notebooks and mobile devices. And those devices need power.
Focus is compromised: today's offices and universities are often open and exposed, providing little to no control over visual distractions.
Features:
Designed for your body: providing high performance comfort and support, the Brody WorkLounge features patented LiveLumbar™ technology—bringing thoughtful ergonomic design to the lounge posture. The adjustable worksurface holds technology at eye level, reducing neck and shoulder strain.
Designed for your brain: the Brody WorkLounge creates a shelter from visual distractions, offers privacy and provides an enhanced sense of psychological security.
Designed for business: the Brody WorkLounge can help organizations and universities optimize their real estate by delivering a high-performance work space in a highly effective footprint. A smart alternative to enclaves, the Brody WorkLounge transforms under-utilized in-between spaces into covetable destinations.


---
Best of NeoCon – Silver Award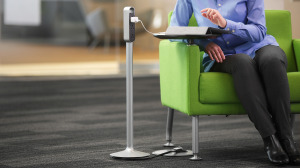 Thread
Simplifies power distribution, providing power to the devices we use and the places where we work and learn.
Insights:
It's not easy: we need more power, but don't have options. Core drilling and trenching are expensive, and damage architecture. Raised floor provides more flexibility but isn't applicable to all spaces.
People need technology: people carry an average of three devices with them to get work done throughout the day.
Technology needs power: as mobile devices multiply, power needs escalate. Consequently, users sacrifice comfort and control for the needs of their devices.
Active learning needs active spaces: classrooms are tethered to perimeter power, tangling students in a web of extension cords. Active learning requires spaces that are active, easily providing power to users and furniture.
Features:
Ultra thin: at a height of just 3/16″, Thread's power track seamlessly integrates into a space, providing power to furniture and users, without impacting foot traffic.
Ultra simple: Thread's simple kit of parts provides power to any space – whether in a café space or classroom – allowing under-utilized real estate to work harder.
Ultra fast: installing Thread is as easy as laying carpet, with modularity that makes it easy to reconfigure. Power can easily be added to new construction or retrofitted into existing spaces.
---
Additional Awards
Surface Materials by Designtex
Play Date (shown above) – Editor's Choice award
Check Up Collection – Gold Award


---
HiP Honorees
Ology
Bringing together physiology and biology to support wellbeing at work.
Shortcut
Sleek, modern and incredibly versatile – the perfect choice for short-term sitting.
Campfire Additions
An expanded line of products to support mobile work.
Want to learn more?
Contract Magazine NeoCon Winners